Milkshake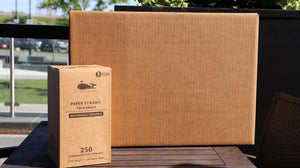 For larger quantities of Blowholes straws, you can order by the case. Cases are ideal for food service businesses like restaurants, bars, smoothie shops, food trucks, caterers, and more. A case of Blowholes paper straws is also perfect for offices looking to supply their cafeterias and break rooms with an eco-friendly alternative to regular plastic straws.
Blowholes paper straws are made from super-strong and durable food-grade paper. Our sturdy straw design means they won't get waterlogged or unravel, even after hours of contact with drinks and beverages of all types, hot and cold. Choose from multiple styles, shapes, and sizes, as well as individually-wrapped or unwrapped paper straws.
Each case of Blowholes biodegradable paper straws comes with a number of individual boxes of straws that you can place a set of straws in multiple locations throughout your business for convenience. In addition, each box of straws within a case comes labeled with a UPC barcode. This means that you can easily retail boxes of Blowholes paper straws in your stores.
Order these today at wholesale prices for your business in Canada. Orders of 6+ cases per SKU qualify for an additional 15% discount.
Blowholes Paper Straws by the Case