Wrapped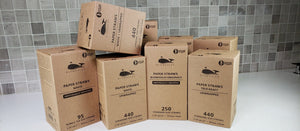 If you're looking to order in larger volumes for wholesale pricing, click here instead.
Make the switch away from plastic and choose a box of eco-friendly Blowholes biodegradable paper straws for all your sipping needs! Available in multiple styles, sizes, and designs, Blowholes paper straws are the perfect way to enjoy all of your favourite drinks and beverages, and be part of the plastic pollution solution at the same time.
The unique design and construction of Blowholes paper straws means that they'll stand strong and tall in drinks of all types for hours on end without unraveling or becoming soggy. Each Blowholes paper straw is made from 100% biodegradable food-grade paper, and ships in recyclable packaging for the lowest possible environmental impact.
Choose from individually-wrapped or unwrapped versions of our classic white paper beverage straws, stylish black cocktail paper straws, extra-large bubble tea paper straws, long & wide milkshake paper straws, and more. Or for something totally unique, our Blowholes Originals paper straws are printed with clever and funny ocean-based wordplay so you'll get a smile with every sip!
Order your Blowholes paper drinking straws today and ditch plastic for good!
Blowholes Paper Straws By the Box